Pitgam
Pitgam, Village patrimoine (Heritage Village)
Pitgam has a little more than 900 inhabitants, the village is characterized by a sizeable amount of land (2936 ha) which makes it the biggest municipality of the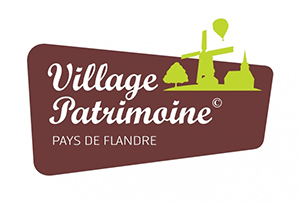 canton of Bergues. Its undulating landscape contrasts with the coastal plain. The village lies at the junction of Maritime Flanders and Inland Flanders, on the former coastline. The southern part of the territory rises to 37m of altitude, and it is on this "summit" that is located the mill Den Leeuw. Indeed, the place, more exposed to the winds, made it possible to optimize the use of the wind energy. This area has become over the decades an open fields landscape.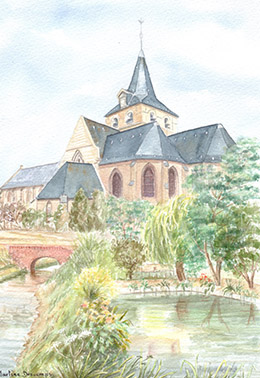 If the heart of the village is 16m above sea level, the northern part of the town is the domain of brouckes (lowlands), located at sea level. This part of the territory is drained by many rhydes. (28 bridges and culverts cross them!). The drainage network set up in the seventeenth century has absorbed the different sources, apart from the pond in the heart of the village (and which gave its name to the village, pit meaning "pond" in Flemish).
The low altitude of this part of the village makes it very vulnerable to ingress sea water. It is prone to marine transgression and floods, the last one going back to the Second World War. This is not without consequences on the landscape, since the area at sea level is devoid of vegetation not resistant to salt. This geographical location on the old coastline justifies a very old human presence, because the Romans came here to exploit the salt which served to them to preserve their food.
Archaeological discoveries have confirmed this ancient occupation.
Pitgam does not share with Dunkerque only these geological and landscape features, it also shares cultural and festive traditions, especially during the carnival season. The village is famous for its band, which takes place on Palm Sunday, and symbolizes the closing of the carnival season of Dunkirk. This band also has the particularity of being driven by an all-female 1st line!
Finally, Pitgam has several hiking trails with varied landscapes and themes (du pain, des moulins, des wateringues…hiking trails), and also a remarkable and classified buildings: the church of Saint-Folquin (12th century ) and its furniture, the Den Leeuw mill still operating, two centuries after its construction, to produce flour...
Take a walk on the 2.6 km circuit and discover the hidden treasures of Pitgam:
The town hall
The former hospice
The old train station
The street of the 43rd RICCA
The Saint-Folquin church
The old post office and the old brewery
The village place
Do not hesitate to visit the six other heritage villages present on our territory, or those of our neighbours in Inland Flanders.