Den Leeuw Mill
DEN LEEUW Mill at Pitgam
At the beginning of the 19th century, the North has more than 1800 windmills, more than half of which are used to grind wheat. At earlier times, in the 17th and 18th centuries, windmills were built to dry the Lowlands area of Maritime Flanders, like the Moeres.
Early 20th century, Pitgam still has 3 post mills : The Pitgam Plaetse, the Moulin du Sud (South mill) and the Den Leeuw mill.
The Den Leeuw mill, or the Lion Mill, is of standard size, with 5x3.60 meters width surface. The shape of the roof is typically Flemish.
It runs until 1940. It belongs to Guillaume DELABAERE and his family, until Lucien DENDRAEL purchase it in 1923. He rented it to various millers until 1946. The Germans use it as an observation post and make an opening in the roof, which was the beginning of the end of the mill.
It is left abandoned for forty years.
In 1970, the mill was classified and saved in extremis by the Historical Monuments, in 1972, but the timber supports is in bad condition. Knocked over by a storm on May 15, 1983, the body fell to the ground, on October 7 of the same year, but it breaks by the storm of November 26 to 27.
It is sold, by the descendants, to the municipality in 1984.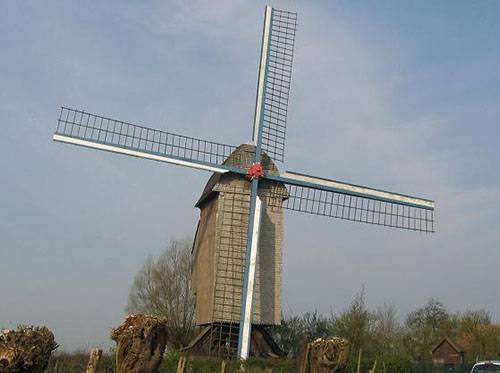 The story
The mayor took care of rebuilding the mill on a voluntary basis with the help of ARAM. In 1988, the wind shaft is overhauled. On August 19, 1989, the sails were installed and the inauguration took place on September 3, 1988.
The mill works to grind.

Den Leeuw Mill
8 Route du Nieppe
59284 Pitgam