The Way of St James
The Compostela trail in the Hauts de Flandre
Several trails of compostela cross the territory of the Inter-municipal Hauts de Flandre Tourist Office. Indeed, several cities were welcome places and passage, such as Bergues and Cappellebrouck with its Parish church of Saint-James the Great.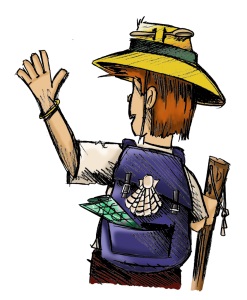 A rehabilitation project is carried by the association Amis et Pèlerins du Westhoek, vers Saint Jacques (Friends and Pilgrims Westhoek, towards Saint Jacques).
The CCHF Culture Department collaborates in the promotion and labeling of the route to propose to you in 2019, 9 roads connecting Diksmuide to Thérouanne. In Thérouanne, you can reach the Via Francigena as far as Arras where the paths of Santiago de Compostela await you.
If you are passing near Hondschoote, do not hesitate to make a stop at the Gîte stage of "Amis et pèlerins du Westhoek".
The trails are available on the website https://www.pelerinsduwesthoek.com/nos-chemins