Les Baladins du Groenberg
Association of historical shows created in 2002 and member of the French Federation of Festivals and Historical Shows. Received the "Quality Label" for the 11th consecutive year.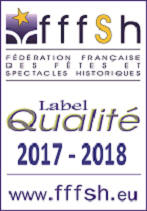 The association, composed only of volunteers, aims to realize various events and shows to promote and promote the site of the city of Bergues:
Night of the Mirror at the Alouettes, anno 1585 (until 2013),
the Feast of Kings (meal-show which takes place both),
the Fire of St. John (in June),
The Legend of the Player of Old Dog
and so many others ...
Creator of the giant "GOMEZ", brave second at the "Miroir aux Alouettes". He wears the red and black outfit of our halberdiers. He is also solidly armed: cuirass, morion, sword and halberd ...
LES BALADINS DU GROENBERG
117 Rue de la Couronne de Bierne
59380 BERGUES