Zegerscappel
Zegerscappel, Village patrimoine (Heritage Village)
Located at an equal distance from the Monts de Flandres, the coast and the audomarois marshes, Zegerscappel, 1500 inhabitants, extends at the crossing of the Yser River and a Roman road, at 30m above sea level. Here, the expression "land of toil and beliefs" finds all its meaning.
While strolling down the streets, Zegerscappel will carry you back to the last century, when wheelwrights, carpenters, brewers, flax scutching farmers have shaped the soul and the scenery of this country where it is good to live, stroll and have fun. At the end of the 19th century, the privileged location of Zegerscappel allowed it to count eight mills.
If trades are gone, the traces of these industries and crafts are present in the heart of the village : old brewery facades, flour mills, old electric factory, ovens ... and the old station, witness of the little train of Flanders passage.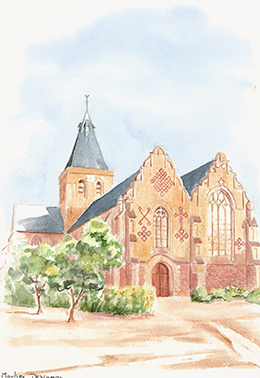 The numerous religious buildings show the importance of religion: the Saint-Omer church, hallekerke (hall-church) with two naves from the 17th century, and more than ten chapels (one of which, dedicated to Saint Bonaventure, is subject of a novena in July).
Zegerscappel is also a land of agriculture : the village is attached to the Flemish white flageolet beans culture, an old vegetable recently identified by the Genetic Resources Center, transformed within the company Timo and celebrated by the municipality every other year in October. The September fair is part of the popular tradition of regional festivals where the population gathers, and does not hesitate to dance around the local giant, Klakke van Zes Kappel.
Stroll through the streets of this village where shopkeepers and locals will welcome you, let yourself be guided by the charms of a house (magnificent manor of Orval, former justice of peace), of a landscape and you will be convinced by Zegerscappel, birthplace in 1743 of the painter Dominique DONCRE, of whom the school bears the name.
To discover in Zegerscappel:
• The Saint-Omer church,
• The town hall and the patronage,
• The chapels,
• The manor of Orval,
• Old breweries,
• The village schools,
• The old mills and the electric factory,
• The square of the Jeu de Paume,
• The old train station
Stroll this 1.6 km trail starting from the parking lot in front of the church and let yourself be seduced by the charm of Zegerscappel.
Do not hesitate to visit the six other "Village Patrimoine" (heritage villages) present on our territory, or those of our neighbour's territory in Inland Flanders.
Leaflets are available for each of these little hiking trails.