Herzeele
Herzeele, Village Patrimoine (Heritage Town)
Herzeele, a village of 1557 inhabitants located on the border between Maritime and Inland Flanders, stretches between the Lille-Dunkerque motorway and the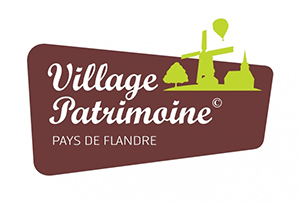 Belgian border.
The town has forged a reputation through the presence of a brickyard since the nineteenth century. When in 1985, the latter, pillar of the local economy, closed its doors, the municipality worked to highlight this material. Thus, the inhabitants of the village were encouraged to engage in a process of improvement of the living environment by the restoration of the private heritage and the embellishment of the facades.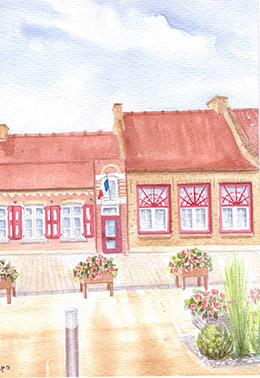 This operation allowed Herzeele to obtain, in 1994, a special prize in the competition organized by the National Academy of Street Arts. Above all, it has preserved the charm of the village and its remarkable architecture.
At the roadside, many chapels (14) challenge the visitor. Erected by private individuals, these constructions are regularly tend to. It is also possible to find very discrete oratories, on the gables on some houses or perched in the trees. 24 km trail allows you to discover these constructions!
At the "Café des Orgues", the stroller's curiosity will be aroused : three buffets Mortier dating from 1912, 1916 and 1936 train the locals to dance on traditional tunes, every Sunday afternoon since 1960.
In the surrounding countryside, five streams surround the village, of which the one crossing the "Vallon de la Petite Becque", open access for walks, and a regional nature reserve classified since 1996. This reserve is home to a significant biodiversity.
Have a good walk in Herzeele, let yourself be guided to discover:
The square,
The little train of Flanders,
The brickyard,
The old customs barracks,
The "Café des Orgues",
The alley of the Presbytery,
The Church of Our Lady of the Assumption,
The Castle Lane
The street of the Little Blue House.
3.3km of strolling trail from the parking at the square.
Do not hesitate to visit the six other heritage villages present on our territory, or those of our neighbours in Inland Flanders.