Brouckerque
Brouckerque, Village patrimoine (Heritage village)
Population 1200, Brouckerque covers 1198 hectares of French Flemish coast. Marked by water, the area used to be a marshland, which where its name comes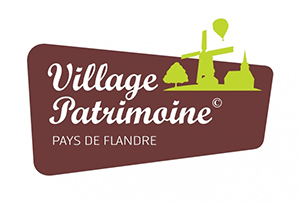 from "the church of marshes" (brouck = "marsh" and kerk = "church"). Brouckerque village represents the specificity of polders landscape. This land, close to sea level altitude, reclaimed from the Aa delta throughout centuries of draining system: a network of rhynes that defines the village boundaries.
It has, however, remained very subject to water-related hazards, whether natural (so-called "Dunkirk transgression") or anthropogenic. It is, moreover, the Man who is at the origin of the last marine transgression: during the Second World War, German soldiers opened the locks regulating the water's level. This flooded the area, and the submergence disrupted the local ecosystem: since then, not supporting the sea water, the vegetation has almost completely disappeared. This part of Flanders is called the Blootland (Dutch for "naked land").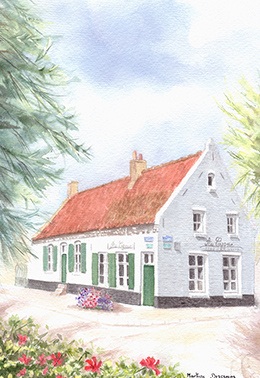 The omnipresence of water is also perceptible through the atypical heritage of the town and its surroundings: the network of rhynes is the reason that explains the large number of locks normal and smaller ones at Brouckerque : these small heritage elements have above all a practical function since they allow to vary the level of the water. It also explains the ochre hue of the bricks: the sand deposited during the various marine transgressions is found massively in the field's subsoil. Unlike inland Flanders, you will not find red brick here !
The village is proud to honour, still today, the Flemish language, spoken by his ancestors. It is found in the local toponymy (names of streets, rivers, localities), but also on some buildings: the town hall, the church, the chapels or the presbytery have on their facade a plaque that indicates their literal translation into Flemish.
It is good to live in this village, near the coast. The friendliness is found in cafes and estaminets, but also through traditional festivals that punctuate the year, the most famous being the band of Brouckerque, one of the dates that punctuate the carnival season of Dunkirk.
From the parking lot behind the town hall, a local rambling path of 7 km allow you to discover Brouckerque:
The town hall
The rhynes (waterworks) network
The high-Colme canal
The chapels
The swan building
The Saint-Omer church
The presbytery
Do not hesitate to visit the six other "Village Patrimoine" (heritage villages) present on our territory, or those of our neighbour's territory in Inland Flanders.
Leaflets are available for each of these little hiking trails.