Alphonse de LAMARTINE, Deputy
ALPHONE OF LAMARTINE, MP
Alphonse Marie Louis of Prat de Lamartine was one of the great poets of the French language. He was born in Mâcon, October 21, 1790, and died in Paris, February 28, 1869. But what is the link between Lamartine and the city of Bergues? In addition to being the recognized great poet, he was also a brilliant politician. It was his own sister, husband of Baron COPPENS and lord of Hondschoote, who incited him to stand for the deputation. He was beaten a first time, but in January 1833, Lamartine was elected Deputy of Bergues. He learns this election while he is traveling in the Middle East. Reelected in 1839, Lamartine was however to prefer the Mâcon's seat, of which he was native.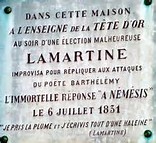 Alphonse de Lamartine stayed some time at the Hotel de la Tete d'Or and where he wrote "Ode to Nemesis." He rebels against the role assigned to the poet in times of struggle. To those who reproach him for meddling in politics, he opposes his right to participate in the struggle for freedom.
In 1913, a bust was inaugurated on the occasion of the Lamartine festivities and positioned in the facade of the Town Hall.
Excerpt from the poem "Ode to Nemesis"
Shame to whom can sing while Rome burns,
If he has not the soul and the lyre and the eyes of Nero,
While the fire in burning river circulates
From temples to palaces, from Circus to the Pantheon!